Private Tours (All Boats)
PaddleTap is proud to offer private tours on all of our party boats! These one-of-a-kind Tiki Boats, Pedal Pubs, or Party Pontoons can be rented out on Excelsior Bay or Seaton Channel! Enjoy a boat cruise on Lake Minnetonka!
Take a peek at all our boating options and which locations they start from. You will truly love this experience for any Bachelorette, Birthday or Corporate outing!
All private tours are charged on a per person fee. Prices are $39/person Monday-Wednesday and $45/person Thursday-Sunday. 8 Tickets or more are required to reserve a private boat. We have a public option that is $55/person if you have less than 8.
Duration
1 hour 40 minutes
Ok, so you want a 100% guaranteed private cruise. These boats are for you! Click around and find the best boat that we offer. Every boat has a unique theme to it, so choose wisely! All are guaranteed to have a good time :)
Private Boat Captain

Pedal Stations (on some of the boats)

Gas Motor (all boats)

Bluetooth Music

Custom Bar

Cooler

Safety Equipment
Drinks

Food

Gratuity for captain
Frequently asked questions
Private Boat Pricing: Per Person Charge. 8+ tickets or more required to book private. *Public Option Available if you have less than 8. 1. Thursday-Sunday Pricing: $45/Person 2. Monday-Wednesday Pricing: $39/Person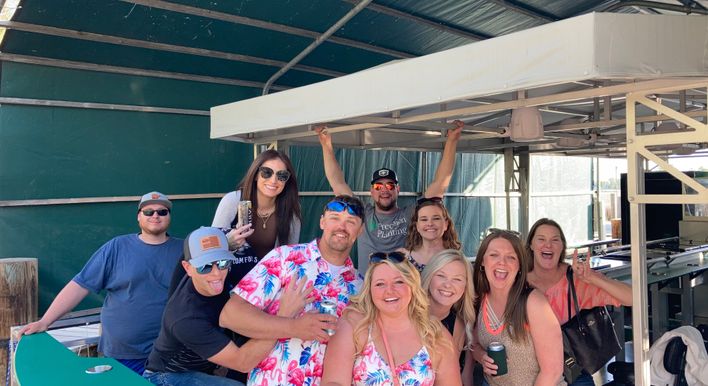 PaddleTaps longest tour of the season-2 hours and 30 minutes! This tour is new for 2023, and only being offered starting middle of September until end of season!
Explore Lake Minnetonka in the fall where the leaves start changing. Explore the channels and bays that the larger charter boats cannot offer. Bring your own beverages, some snacks and let us drive you around West Arm/Seaton Channel/Cooks Bay for 2.5 hour on the water, our longest cruises of the year! We will get up and close to some of the best fall colors Lake Minnetonka offers. This tour will have a bathroom on board as well with bluetooth music.
This tour will either be on our largest 30 foot LazyTap double deck boat, or the 25 foot TikiTap boat. Depending on boat availability with other tours being offered"
Pricing is $75/person for the 2.5 hours, and private bookings require 8 tickets to be purchased as a minimum. But you are more than welcome to book as many seats as you need up to the boat maximum of 18 guests.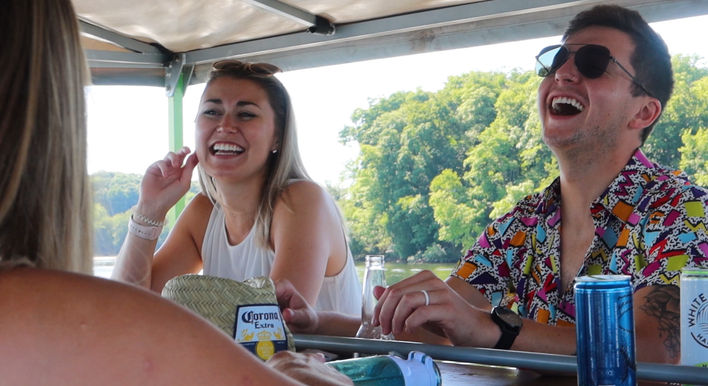 Do you have a smaller group? Or just don't want to rent the entire boat? Book our per seat boating option! Perfect for those smaller groups who still want to go out and celebrate that Birthday/Bachelorette or even just a night out! This option does have a requirement of of 4 guests to guarantee it will go out. But you only pay for as many seats as you want. This option is not guaranteed private, and it is very likely you will be paired with other people!
This public option is only available on our LazyTap and SuperTap Paddle Pub to book using this option. It is a first come first serve basis.