PaddleTap and Pedal Pub in Minneapolis have some of the most exciting tours available for any occasion that brings you to the Twin Cities! Whether you want to spend an afternoon on the lake or rent a party bike for your birthday parties, you will always have a great time.
You'll get a chance to visit the most trendy bars in the city without having to track them down on your own and ensure you have all the drinks you enjoy most by bringing your own to the party. Experience the city's best Minneapolis nightlife in the convenience of one trip on a pedal pub!
A tour we think you'll love
All About Pedal Pubs In Minneapolis
When you book a tour on a pedal pub in Twin Cities, you'll discover an entirely new way to explore the town no matter the occasion. Pedal pubs are inclusive of all shapes and sizes, as each seat supports riders up to 300 pounds. This means you don't have to worry about embarrassment when you show up with different pub groups.
Since the spread of COVID-19 in 2020, pedal pub owners have taken safety seriously and ensured that every pedal tavern is wiped down from the bar to every seat with EPA-registered disinfectants between every tour group. So you can have fun without worrying about catching a cold on your tour!
No glass containers or hard liquor are allowed in pedal pubs, but you're free to bring any other beverage you'd like, and don't forget the snacks!
Choose The Pedal Pub Option That Sounds Most Fun For Your Event
Pedal pubs are so much fun no matter what version you choose, but you'll want to review your options to make the best decision for your group! Have fun on a party bike as you roll through the Twin Cities for your event! Party bikes are the most common form of pedal pub that explore Minneapolis nightlife and can accommodate up to 16 pedalers at once!
PaddleTap is a popular option to take the fun onto Lake Minnetonka or Excelsior Bay! We offer four different boats to choose from. The first option is TikiTap! Although this boat doesn't have pedals, it's a fun option with a Tiki-themed bar where you can place your drinks or have a seat as you cruise along the water.
LazyTap is the only double-decker option we offer and is the only boat that allows swimming during your lake tour. Up to four guests can dive in at once, but each one must wear a safety vest at all times while in the water. There is also a bathroom on board, so you don't have to worry about ruining the fun by heading back to shore to use the toilet!
SuperTap is an exciting choice that can lead to celebrity sightings while you're out touring Lake Minnetonka. This tour also offers the best sunset views and is superb for team building as pedals or the engine can drive it.
While RegularTap might not have the most fun name, it's the boat closest to your go-to shopping and dining opportunities before hitting the water for two hours. Here are just some of the spots where you can shop or grab a bite to eat before your tour:
Maynards

Haskells (Liquor store)

Excelsior Brewing

Lago Tacos

The Suburban
All the boats we offer are available for private tours of up to 18 people, or you can pay for individual seats if you're part of a smaller group looking to join the fun on a public tour. Remember to reach out before your event to get a spot on your desired boat; you're sure to have so much fun on the water with PaddleTap!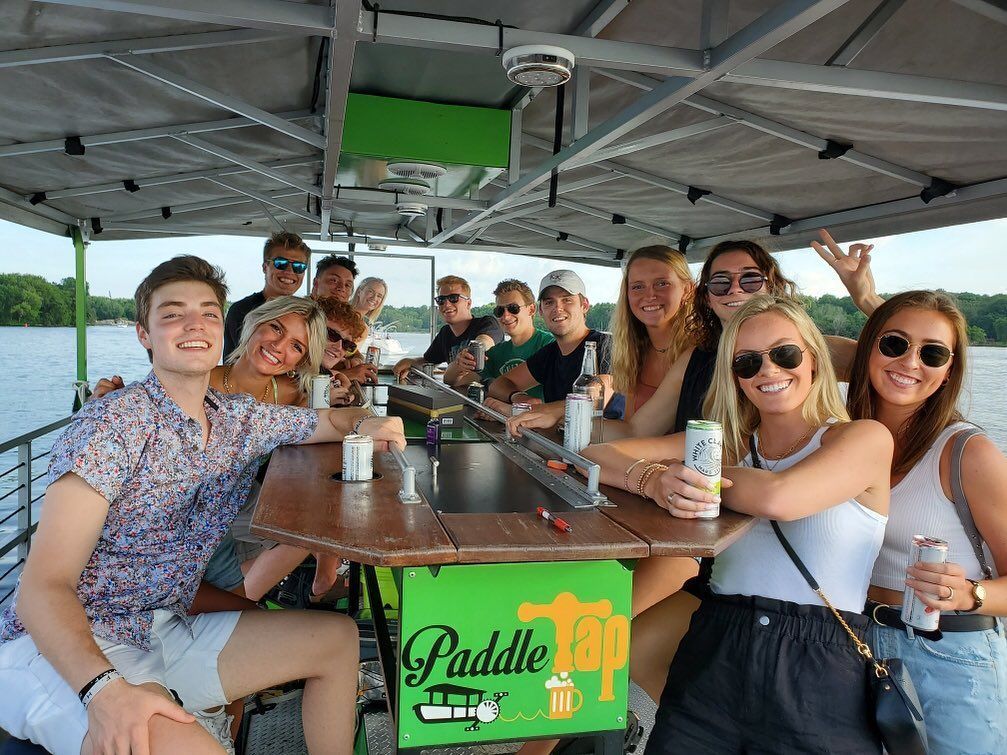 Useful Tips Before Your Trip
Whether you're planning a pub crawl for your bachelor party or looking for fun company teambuilders, there is some tour information you'll want to know before scheduling a party bike or boat tour of downtown Minneapolis!
First, know that the fun doesn't stop because of rain. Only assume that your trip is canceled if you receive notice from management. These party bikes roll rain or shine! Keep in mind that there is no actual bar on a pedal pub, so be sure to bring your own drinks and snacks to get you through the trip.
Although there are always pedals involved as you tour trendy bars, you don't have to pedal if you're not feeling up to it. Your tour guides can always utilize the onboard motor to keep the party rolling.
If your party is bigger than the 16-person limit, you can always rent multiple bikes for an even more exciting experience with all your friends. This is perfect for bachelorette parties or birthday parties.
Why Is A Pedal Pub Perfect For A Bachelor Party Or Bachelorette Parties?
Whether a bachelor party or bachelorette party, renting a whole bike for your pub crawl through the Twin Cities is so much fun! Everyone gets to have fun pedaling away toward their next location or simply having a blast hanging out with beloved friends.
You'll get to visit up to three trendy bars in the city for your bachelor party and receive a VIP discount on selected cocktails, shots, and more when you arrive. You won't have to worry about designated drivers because your beerless leader will always get you safely to the next destination!
Bachelorette parties are always more fun with singing involved, so be sure to bring your favorite playlist, and your tour guides will make sure the music is ready for you after each stop with Bluetooth-enabled speakers!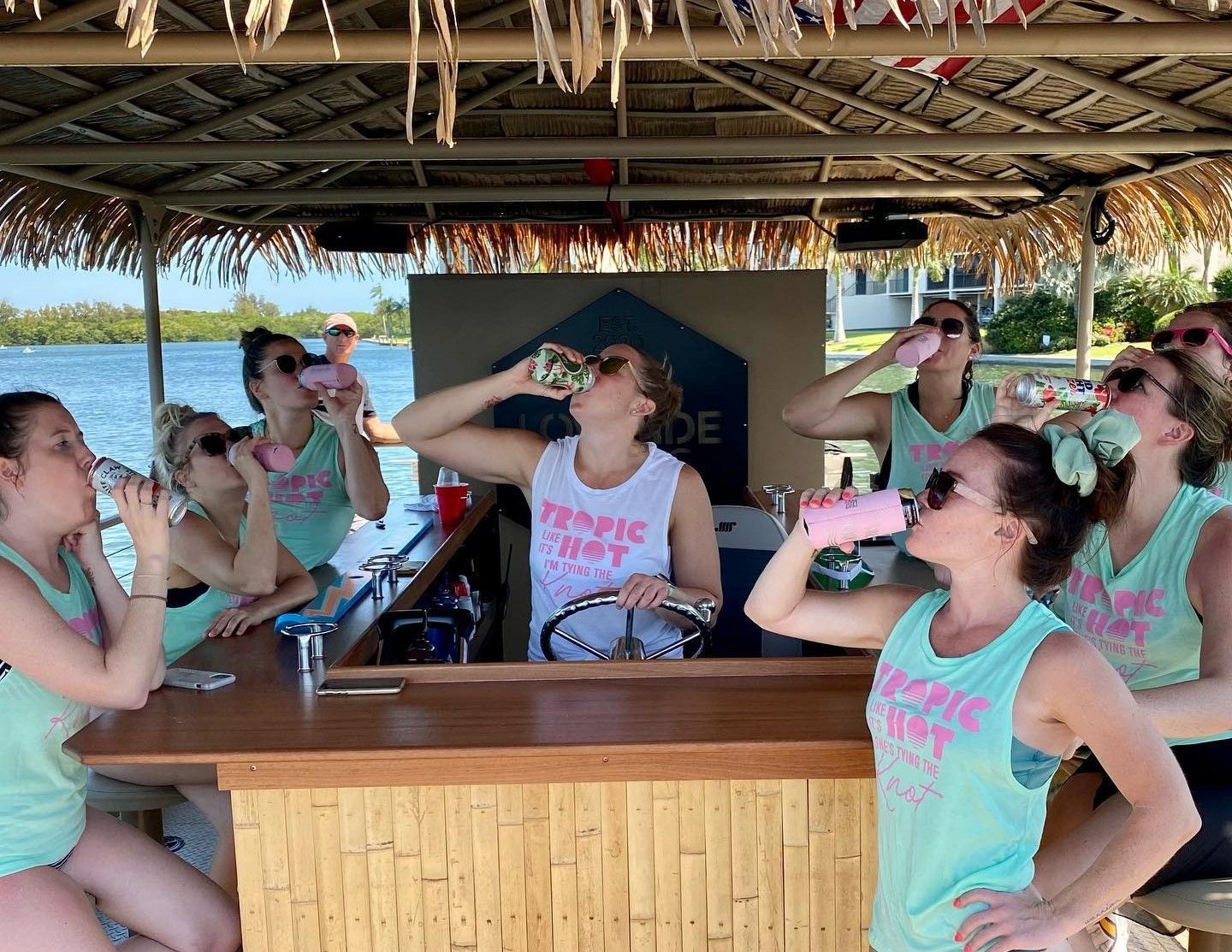 Choosing A Pedal Pub For Birthday Parties
When planning birthday parties for friends or yourself, keep in mind that a pub crawl is an exciting yet sometimes exhausting experience. Simplify the night by booking seats on a pedal tavern so your beerless leader can take over all the hard work for you.
Not only will you have the opportunity to tour the city without looking up all the best places, but you'll get VIP service at two to three bars during your special night. Make sure to have your favorite music on deck for the captain, as each pub tavern has Bluetooth speakers so that you can be the DJ for the night!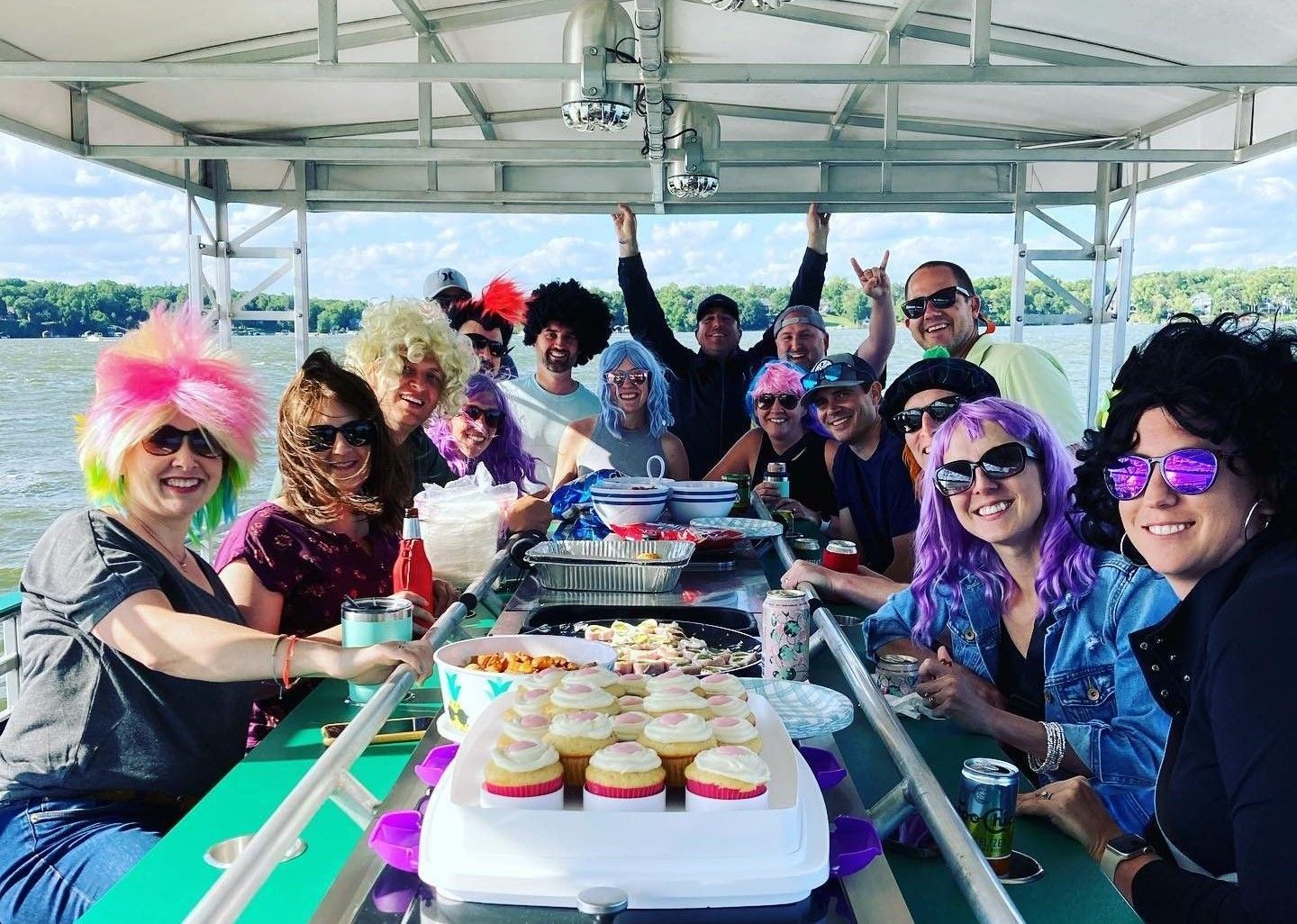 Why A Pub Crawl Is Better With Pedal Pubs
If you want to explore the city's best taverns, you might consider paying for individual seats on a public pedal pub tour! Not only will your tour guide lead you to some of the hottest spots the town has to offer, but you'll even receive a discount once you've arrived!
Taking a mobile pub crawl tour of the city is also a great way to learn more about the area's history and get a better lay of the land than you would be wandering the streets on your own.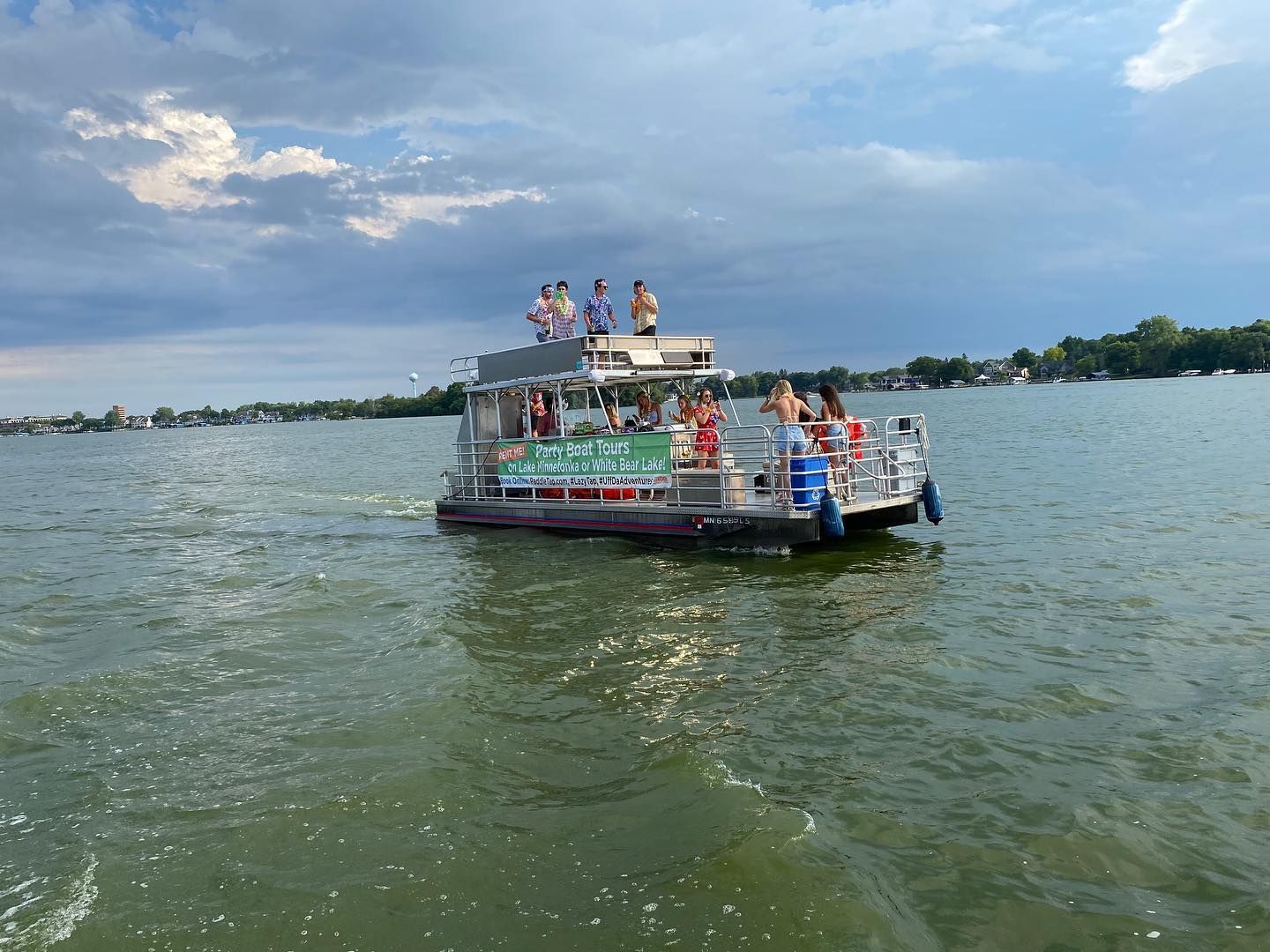 The Pros And Cons Of Pedal Pubs In Minneapolis
While these mobile pub crawls are almost always the ideal way to explore the Twin Cities and its taverns, there are always a handful of things to consider. Here are just a few things to keep in mind:
The Pros:
No getting lost or long walks from one bar to the next

VIP discounts!

Meet new people on public tours
The Cons:
No hard liquor or drinks served; you must bring your drinks

No food on board, must bring your own

You might not have control of the music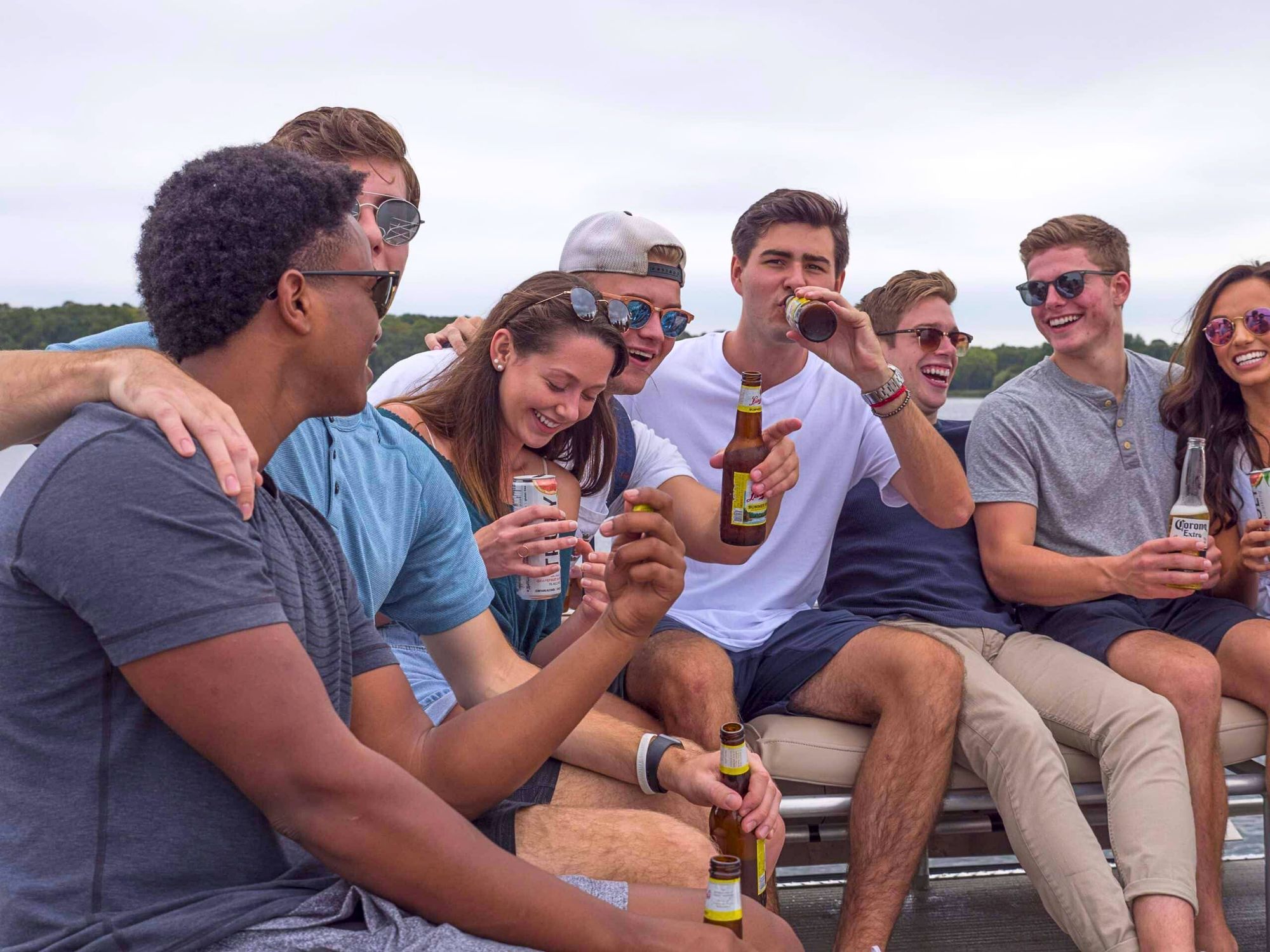 Enjoy Pedal Pub On Lake Minnetonka
A tour on a pedal pub in Minneapolis is always a refreshing experience, especially if you're new to a city or simply want to get an insider's view of the best places to grab a drink with friends.
You can even hit the water on Lake Minnetonka with a tour on a boat to experience an entirely new way to enjoy an afternoon on the water while drinking with friends.
Why should you embark on a pedal pub tour of the lake? RegularTap allows you to see the infamous Big Island if you're brave enough to ask your captain!
If you enjoy a themed excursion, you'll love the tour of Lake Minnetonka on TikiTap. You can bring along your favorite island-inspired tunes, and the captain will get the music ready for you on the Bluetooth speakers.
SuperTap offers occasional sites of celebrities cruising Lake Minnetonka, and LazyTap gives you the opportunity to take a dip in the relaxing waters with your friends and family.
Schedule your PaddleTap tour today and lock down your desired boat tour experience!